Another Nebraska.Code() is in the books and it was a real blast. The organizers, Adam & Ken, really put in the effort and run a great conference. The other speakers are always quality company and I really enjoyed meeting a few new ones and getting to know some much better. One of the things I enjoy about conference is the circle of friends you make and meet across the country as you travel to this conference and that conference. We had lots of deep, and many more entertaining conversations.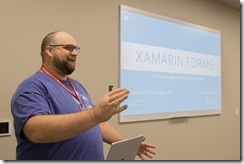 For the second year in a row Richard Campbell (of .Net Rocks!) was in attendance. This year it was because he was coordinating a code-a-thon to work on his Humanitarian Toolbox charity. The charity is really interesting and I've thought it would be nice to contribute in some way for a while now, but didn't know where to start. So, when I heard about the opportunity to spend some of my time and skills to work on a project that helps organization like the Red Cross bring aid to disaster victims I was all in. The day was a lot of fun hanging with Richard and working with James Chambers, who managed the groups development efforts. We worked on a project called allReady, a software solution to help the Red Cross coordinate campaigns to get the public signed up to have free smoke detectors installed and then manage the volunteers as they go do the installs. In the future it could be the groundwork for managing other volunteer efforts by similar organizations. I didn't get to work on much of the "glamorous" code, but I was able to help complete some much needed unit tests to ensure that functionality doesn't break in the future. It is a worth-while organization, and if you are interested in contributing head over to their GitHub page and check it out. I'm considering ways that we can help here in KC through the Kansas City .NET User Group, maybe we can organize a code-a-thon or other such event in the future.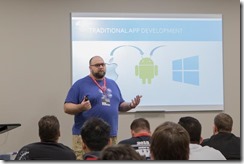 This year I had two sessions at Nebraska.Code(). My first session was my Xamarin.Forms: One App to Rule All Your Platforms talk, I almost didn't submit it this year after mixed interest last year, but then the Microsoft purchase happened and I got submission in just in time. Well, I'm glad I did. My room was pretty full, and I think the new pricing has renewed interested in the Xamarin tools. Unfortunately, I didn't have time to incorporate any of the new 2.x bits that were announced at Xamarin's Evolve conference. I'm working through those and plan to have many new features added and a much better and brand new demo added by the next time I present it at Music City Code in August.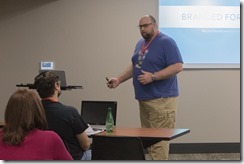 I also did my first ever soft-skills talk on personal branding, called Branded for Success. I was really nervous not having the time-sucking safety net of a demo, but the talk went really well. I like doing the technical talks, and while soft-skill talks are beginning to become all the rage, I did this talk because it is a topic that I think is very important for the developer community, especially those that are working to network and improve themselves by attending conferences. I had really good participation from the audience and it was more of a conversation than a lecture (which is what I was aiming for). I look forward to an opportunity to give this talk again.
I'm looking forward to what next year will bring for Nebraska.Code()!
comments powered by

Disqus